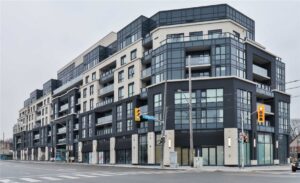 The Lanes Condos at 1401 O'Connor Drive (at Yardley/Bermondsey) is a 7 storey condominium building with 142 residential suites.  The building was registered as TSCC 2867 on August 20, 2021.  Sizes range from 418 to 1,072 square feet.  Half of the suites in the building are one bedroom plus den layouts, averaging 745 square feet. There is one studio layout, while the remaining layouts are one bedroom, two bedroom and two bedroom plus den.  The entire building is 147,868 square feet on .89 acres.  Turner Fleischer were the architects for the building and interior design services were performed by Johnson Chou.
Amenities include:
Sky Deck rooftop lounge with barbeque

Strike Club party room with dining room, kitchen, billiards and foosball tables

24 hour Skyview Fitness Centre

Yoga studio

Lounge

Guest suite  

Smart building with ValetID facial recognition and digital key entry

Concierge

Building app for front door and garage access, booking amenities (including moving elevator) and building communications

Visitor parking with EZPermit passes

Retail and medical services at street level
Single family residents make up two thirds of the building and the remaining third are individuals.  There are 21 visitor parking spaces, 125 resident parking spaces and 5 retail parking spaces, for a total of 151 parking spaces on 2 levels of underground parking accessed from Yardley Avenue.  For cyclists, there are 22 visitor
 bike spaces, 172 resident bike spaces and 7 retail bike spaces, totaling 201 spaces. 173 lockers are located in the parking garage. There are 2 elevators servicing the building, as well as 2 stairwells.  
The building is construction to Tier 2 of the Toronto Green Standard, which exceeds the minimum requirements for new developments.  Elements include a green roof; enhanced onsite storm water containment; urban heat island reduction at grade through the use of cool paving, trees and shade; minimizing energy and water consumption through efficient building design; reducing light pollution by lowering glare at night; use of recycled materials, provision of cycling infrastructure; and construction/waste consumption.  The result is an improvement in air and water quality, reduction of greenhouse gas emissions and enhancement of the natural environment. 
Each suite features floor to ceiling windows, European style kitchen with stainless steel buildings, ensuite stacked laundry, quartz countertops, designer inspired laminate floors and ceramic tiles.  The bathrooms have tub or walk in showers, high tech mirror with touch screen heating or lighting and wall mounted dual flush toilet with wall control plate. All suites have a balcony, and select units on the top two floors have terraces.  
Maintenance fees include heating, water, high speed internet, building insurance and common element maintenance.  Hydro is metered and billed to residents.  Property taxes are individually assessed.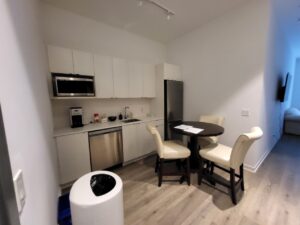 The Topham Park neighbourhood in well established East York is minutes to the shops and restaurants on the Danforth, or a 15 minute drive to Yonge and Bloor. Nearby parks include Topham Park, Edge Park and Warner Park. Public schools nearby include Victoria Park Elementary School, Gordon A. Brown Middle School and East York Collegiate Institute. Our Lady of Fatima is the area Catholic elementary school.
The 70/70A O'Connor TTC bus operates out of Coxwell TTC station. Eastbound stop #5946 is in front of the building. Westbound stop #5920 is across the street. It is a 20 minute bus ride from the building to Coxwell TTC station. Bus service is scheduled approximately hourly from 5 am to 1 am daily. The Crosstown LRT will have an "O'Connor" stop at Victoria Park Avenue and Eglinton Avenue East. It is just under 3 km to Warden TTC station and 5 km to the Lakeshore East train at the Danforth GO station.
Michael Garron Hospital is about 9 minutes away, or 3.5 km. Toronto Fire Station 235 is located at 200 Bermondsey Drive, south of Eglinton Avenue West. The closest Shoppers Drug Mart at 812 O'Connor Drive is just north of St. Clair Avenue.
Golden Mile Plaza and Eglinton Square Shopping Centre are conveniently close, under a 20 minute walk. No Frills grocery stores are at Victoria Park Avenue and Eglinton Avenue East, and Victoria Park Avenue and St. Clair Avenue. There are numerous big box stores, including Walmart, on Eglinton Avenue East, towards Warden Avenue.
Just to the north of the site, Amsterdam Towns at 1455 O'Connor Drive is under construction where the car wash was located. This 52 unit, 4 storey condominium townhouse is under construction by Rise Developments, with a completion date in late 2023. To the south of the site, Yardley Towns, a 4 storey stacked 20 unit condominium townhouse development is under construction by Manorgate Homes. It replaces the automotive repair shop at 1165 O'Connor Drive. Across the street is the Mondelez bakery that manufactures snack foods, it was formerly known as Kraft Foods.Element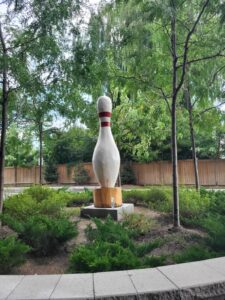 You may be wondering how the building was named—it memorializes the long time use of the property as a bowling alley.  In 1952, John Martin founded O'Connor Bowl, which operated until Friday June 5, 2015.  This 5 pin, 24 lane bowling alley was popular with bowling leagues and customers who liked glow in the dark pins, fog machines and music during Saturday disco nights.  In 2011, Stafford Developments purchased the property from the estate of John Martin.  The development application was approved in 2013 and included a Section 37 cash in lieu of parkland dedication of $300,000.  The property was sold to the Edzar Group in 2014 or 2015.  Another requirement was that items and photos of O'Connor Bowl be displayed in the building.  The bowling alley is reflected in the design of the exterior facade.  The developer's first day of sales was November 7, 2015 with a 20 percent deposit required.  Construction of the building was completed in 2020.  The Lanes Condos is the newest mid-rise residential building in a area that is in transition.  The property management company is 360 Community Management.